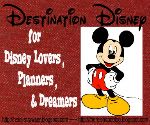 This week I decided to participate in Disney Destinations with Heidi. I think I found someone who loves Disney at least as much as I do, if not even more. Why not click on the button above and play along. Following is the prompt.
Disney Water
What? You ask. Well, like everything else that Disney does, they do water right. Think Seven Seas Lagoon, World Showcase Lagoon, and Crescent Lake – and that's just a few examples of LAKES. When I think of Disney Water, my mind also goes to the many FOUNTAINS throughout the parks – my personal favorites are the ones at EPCOT.
So, this week's topic is fairly broad and is limited only by your own imagination. Let's keep this topic for Disney ON LAND – parks, Downtown Disney, Water Parks, etc. – we'll save the REAL WATER (Disney Cruise Lines) for another post.
------------------------------------------------------------------------------------------------------------------------------------
One of the many boats that take you from one park to the next or to the hotels, etc. I believe this may be standing on the dock in front of Magic Kingdom
This is at EPCOT. It's in the World Showcase near France.
This is the bowling pin pool at Pop Century
I believe this is the pool at the Animal Kingdom Lodge
This is at EPCOT in the Living Seas
The Water Tower at Disney Studies
One of the many water fountains at EPCOT
The Jungle Cruise at Magic Kingdom
Kerri back in 2006 posing in front of the World Showcase Lagoon in EPCOT
Hippy Dippy Pool at Pop Century.
Does this count as water? The girls and I in Animal Kingdom during a rain shower.
Kelli and Kerri posing in front of the World Showcase Lagoon with Spaceship Earth in the background. This was back in 2006 and the Mickey hand and wand is gone now. I'm glad because I like it better the original way without the hand.
Another beautiful fountain at EPCOT! Disney really knows how to do fountains and I believe that EPCOT has the best ones.
A small river that runs through Magic Kingdom. That is the Crystal Palace on the left and the Castle would be back behind me as I was taking the picture. I think this is part of the reason I love Disney so much. They pay so much attention to detail. I love the landscaping and all the beautiful flowers. I later got a picture of those purple trees up close. So pretty.
Kelli in front of one of the fountains at EPCOT.


Kerri in front of the same fountain.