Go to the bottom of this post for the Christmas Photo Challenge. Still continuing on with counting my blessings and gifts from God.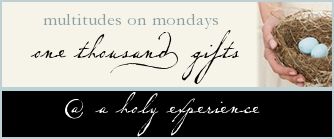 38. Listening to Christmas music on Pandora on my computer while at work. So enjoying the Michael Buble' Holiday channel. So thankful for Christmas music.
39. Singing a cappella with my church family last Sunday night to some old hymns. I don't know if it was beautiful to anyone else, but I loved it and I know God did too.
40. My new little red teapot. I love this for heating water to make hot chocolate and it cost less than $5.00.
41. Hot Chocolate with hubby Saturday evening while watching TV and wrapping gifts for the Giving Tree.
42. Pinterest - for giving me the idea and directions to make my new wreath this year.
43. Waking up early Saturday morning to spend some time with God and then fixing pancakes for breakfast.
44. Lily waiting patiently in the kitchen hoping to get some pancakes too...she did. Thank you Lord for this wonderful pet you've given us.
45. Red bows and gift wrap that make me smile.
46. Enjoying the Christmas carols at church Sunday morning.
47. My daughter, Kerri decorating the Christmas tree at home and also helping a friend do the beautiful decorations at church
48. Being reminded by Andy Stanley in a video series that the "fear of the Lord is the beginning of wisdom..." and that "thefear of the Lord" is recognition and reverence that leads to submission.
49. Actually getting some Christmas shopping started.
50. The beautiful group of people that we worship with each week. They are the most loving, giving, praying, worshiping people I know. And I'm blessed to be a part of them.
The Christmas Photo Challenge prompt for today is something warm and tasty. Visit
Susan at This Day
to join in on this challenge. The picture for blessing #41 above fits the bill for warm and tasty.