On this first day of 2012 I've been thinking. Kind of scary right? I've been thinking about what my word for 2012 might be. 2011 my word was trust. 2010 was an extremely hard year for our family and in 2011 I was trying to learn to trust God through all things. 2011 was a much better year and the Lord has blessed us so much. I believe I've learned to trust Him more, although I know I have a lot further to go.
I think for 2012 my word will be praise. I just want to praise God for all He has done, is doing and will continue to do in our lives. A scripture that comes to mind is Psalm 34:1
"I will bless the Lord at all times; His praise shall continually be in my mouth."
NKJV Another verse is Psalm 22:3
"But thou art holy, O thou that inhabitest the praises of Israel."
KJV I love the thought that He inhabits our praise, which means He lives there. I love the idea of Him living in my praise which means He's really close, if I keep praising. Now I know His spirit lives in us if we are His child, but I just love this thought too.
I was considering the thought of praise this morning and then after church we got some upsetting news about some friends. I thought some more and realized that even in the bad times, I still need to praise Him. My husband and I were talking and I told Him I realized that we could have some bad things happen this year in order for me to truly learn to praise Him in the bad times. But even if that happens, I know that He is in control and He will be with us as He always has been, so I plan to try to praise Him anyway.I know I'll have failures, but I know He will continually remind me to praise Him through it all.
I think this also goes along with the Multitudes on Mondays I've been participating in, where we count 1000 gifts or blessings from God. It would be hard to count the blessings and not praise Him at the same time.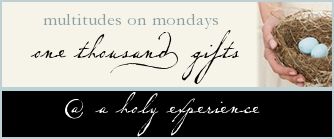 61. a wonderful Christmas celebration with our family, my family, my husband's family and our church family.
62. getting a Kindle Fire, which I am learning to love
63. being reminded that we have been given the greatest blessing of all, the birth of our Savior Jesus Christ - the very best that God has He gave to us in order to redeem our soul.
64. Extra days off during the holiday to run around and rest and relax and spend time with my family at home.
65. Finally having all the Christmas decorations put away (I love them, but I'm always glad to get my house back in order).
Why don't you click on the One Thousand Gifts Button above and join in counting all the blessings of God in your life. You won't regret, looking back on your week and remembering the wonderful things He's done for you. Some are small and some are huge, but it's good to remember them all.