1. What is something you are loving right now?
That I finally got myself back on Weight Watchers and I've lost 7.6 lbs. so far. Yay me! lol
2. Paris, Venice, New York, and Rome are considered four of the most romantic cities in the world. Which one would you most like to visit?
New York because I would love to see a play live on Broadway.
3. Are you a romantic?
Not really, no.
4. What's your favorite love story made for the Big Screen?
Lake House with Sandra Bullock
5. Everyone loves Pooh bear and friends...which character are you most like and why? Click
here
for help in answering this question.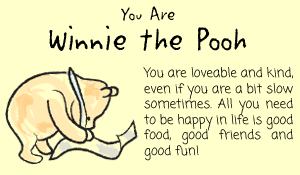 Take the 100 Acre Personality Quiz!
6. What's the best chocolate something you've ever eaten?
Death by Chocolate Cake
7. Share a favorite quote about love.
Love is life. And if you miss love, you miss life. Leo Buscaglia
also the whole 13th chapter of 1 Corinthians
8. Insert your own random thought here.
Day 8 of the Photo A Day Challenge prompt is "sun"
This is from last Thursday when Kerri and I were out taking a walk.
Have a great day everyone!