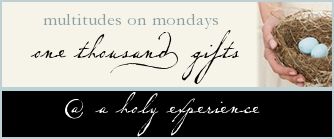 I'm still counting the things I'm thankful for and you can join in too. Just click above and count your blessings and gifts too.
116. The opportunity to once again see the videos from Beth Moore's Bible Study "Believing God". My husband is showing them to the whole church on Sunday Nights for the next 9 weeks. Our lady's group did this whole study a few years ago and it is just to good to keep to ourselves. I love being reminded of the truths I learned then.
117. I'm thankful that mom and dad are both feeling better. Dad still has to have a pacemaker, but he's a whole lot better than last week.
118. I'm thankful for 4 brothers and sisters who are all stepping up to the plate and helping. They always have and I believe they always will.
119. I'm thankful for the opportunity to tell my dad I love him. We don't do that a lot in our family. We know it, but just don't say it alot. But I'm glad I had the courage to say it. And you know what? He said it back. I will treasure that for always.
120. I'm thankful for a husband who stands beside me through thick and thin!
121. I'm thankful for a wonderful daughter at home who helps and loves too.
122. I'm thankful for another wonderful daughter, who while away at school and busy with all she does there, takes time to call or text and checks up on the family from time to time.
123. I'm thankful for a church family who prays!
124. I'm most thankful for a God who keeps showing off all His wonderfulness! Even though it's been a tough week, He has made Himself evident in so many ways.