My husband and I were talking this weekend about someone we know who deliberately seeks for God in his everyday life. I admire that and have been thinking about this a lot lately. I want to be more like that and look for God moments or blessings of God in my everyday life. I just want to be more aware of God in all aspects of my every day. I know He's there in every breath, but I don't consciously think about it and I want to. I want to be very deliberate in my efforts to really see Him everyday.
Lately I've noticed two of the bloggers I follow have been doing this using Multitudes on Mondays, One Thousand Gifts. These two bloggers are
Debbie at Heart Choices
and
Jamie at Six Bricks High
.
These ladies both have such a heart for God and I would recommend checking out their blogs. The thought as I understand it is to list 1,000 things you are thankful for. I've decided in my efforts to be more deliberate about seeing God in my life that I will try this too. I'm thinking that if I consciously look for the blessings in my life I will definitely be seeing God.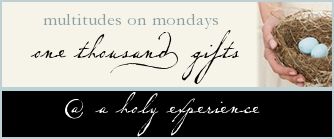 Blessings I'm thinking of right now. #1-5
1. A pricking of my heart from the Spirit to want to see God more.
2. A husband who encourages me in all my pursuits.
3. My daughter laughing with a good friend while on the phone...I love her laughter.
4. The opportunity to visit and then worship with family visiting from out of state.
5. Blogging friends who encourage me, even when they don't know they do.