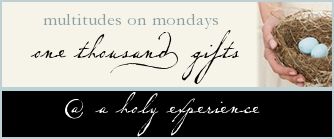 In my deliberate effort to be more aware of God in my life, here is a continuation of the list of Blessings, Gifts, & God moments in my life this past week:
11. A wonderful service yesterday with my husband reminding us that God's mercies are new every morning.
12. God with me in the night. I've had a cold or flu or something this past week and Saturday night I couldn't sleep at all. At one point I got up and decided to read my Bible and God led me to Lamentations and the same verse that my husband used Sunday morning in his sermon that I mentioned above. That verse seems to be coming up in my life a lot recently. No doubt it's a God thing.
13. Wonderful Friends. A friend gave me a recipe for a hot toddy to try for my congestion. I have to say it wasn't very tasty (I've had worse though) but it seemed to help. I really slept last night. Thanks Karen. (I'll try to post it later this week for those of you who may be interested.)
14. Fellowship. Yesterday was "Homecoming" at our church and after service we had dinner. Let me tell you we have some wonderful cooks at our church (both men and women) and lunch was great. But not just the food, the fellowship with each other was too. God has blessed us richly.